Love in the Void (alt.fan.c-love)

conceived and directed by Elyse Singer
co-adapted by Elyse Singer and Carolyn Baeumler
starring Carolyn Baeumler
with Eric Sanders on guitar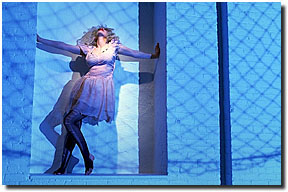 In January 1995, Elyse was given a copy of the Courtney Love FAQ : a compilation of Love's postings to the Usenet since July 1994. When, a week later, she sat down to decipher the pages of miniscule type and complicated headers, she discovered the seeds of a play. A 20-minute version of Love in the Void (alt.fan.c-love), starring Carolyn Baeumler as Courtney Love and with Eric Sanders on guitar, premiered as part of New Georges' first Perform-a-thon in April 1995. Encouraged, Elyse and Carolyn expanded the piece to 45 minutes, adding slide and video projection, and presented a workshop of the piece in New Georges' The Room the next month. Knowing practically nothing about Hole or the Internet before beginning the project, Elyse and Carolyn did substantive research throughout this whole period -- including moshing at Roseland and attending Lollapalooza.

The full-length version of Love in the Void premiered as part of the American Living Room Festival at HERE in Soho and ran for three weeks in August 1995 in the Club Space as part of a festival sponsored by New Georges. The show returned to the same space in November 1995 for four additional performances. Its last presentation was in October 1996 at P.S. 122.

NOTE: Carolyn did don her Courtney drag for one additional event: 24 Hours in Cyberspace in February 1996. The resulting photographs, taken by Life Magazine staff photographer Joe McNally, appeared in the "Sex Lies and Websites" section of the site, and subsquently published book, under the title Rock Diva Online. Vice President Al Gore later officiated a ceremoney wherein Cyber24.com became the first Web site inducted into the Smithsonian Institution. Love in the Void is the only play represented in the collection.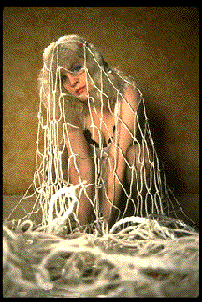 PRESS CLIPS:
"the piece as a whole, directed by Elyse Singer, was terrific. Words and images kept trading places. The technological world was given flesh and blood without losing its aura of science-fiction spookiness." -- Margo Jefferson, New York Times (5/17/95). For full review, click here.
"The American fascination with the trope of the tragic torch singer gets a funny and harrowing workout in Love in the Void" -- John Istel, Village Voice (8/15/95) For full review, click here.
"coadaptors [Carolyn] Baeumler and Elyse Singer have slyly located their Courtney Love in a Richard foreman-esque existential hell...Baeumler, as Love might say, fakes it so real she is beyond fake." -- James Hannaham, Village Voice (8/22/95)
"It took a small theater piece based on the Internet posts of Hole's Courtney Love to evoke the essentially psychological nature of cyberspace..[Carolyn Baeumler's] performance is impresive both in its physical and emotional aggressiveness and its aesthetic restraint....she and director Elyse Singer are able, perhaps for the first time on the stage, to capture a bit of the 'Net mystique." --Ed Hewitt, Music Wire 8/23/95
"Courtney's intelligence, biting humor, and weary worldliness, from having experienced more psychic agony than she should ever have had to in her relatively short existence, is captured by Baeumler, in a powerful portrayal...Most of the play is extremely funny." -- CaRol E. Mariconda, Addicted to Noise (8/2/95). For full review, click here.
photo: Daniel Sollinger
plus:
Entertainment Weekly
MiscMedia.com
Daily Planet
and, last but certainly not least, Void made the Internet Underground Online Top 100 : " a round-up of the most Notorious, Ridiculous, Infamous, Ludicrous, Outrageous, Egregious (think we used the Thesaurus feature in Word?) Humorous, Scandalous and Plain Old Wacky Events, Issues, People, Sites and Trends on the Internet in 1996" Even though, we must point out, the play premiered in 1995.
Set Designer: Martin Fahrer
Costume Designer: Kaye Voyce
Lighting/Video Designer: Daniel Sollinger
Sound Designer: Lewis Flinn
Choreographer: Trajal Harrell