SEX by Mae West

MAE WEST'S CONTROVERSIAL PLAY STAGED IN NYC FOR FOR FIRST TIME SINCE 1926

SEX in the Press | Company Bios | Our SEX History | SEX Photo Gallery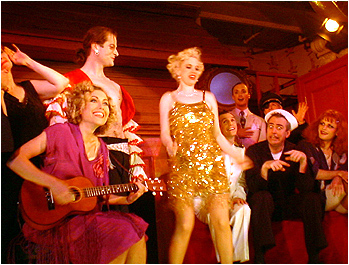 Directed by Elyse Singer
with music by SEX MOB, Steven Bernstein, Composer
Evan Hause, Musical Director
CAST:
MARGY LAMONT: Carolyn Baeumler
LT. GREGG: T. Ryder Smith
AGNES/MARIE: Nina Hellman
CLARA: Cynthia Darlow
ROCKY: Bruce Kronenberg
JIMMY: Andrew Elvis Miller
MANLY/CONDEZ/JENKINS: Dominic Hamilton-Little
DAWSON/JONES/COP: Chuck Montgomery
CAPTAIN/STANTON: Fred Velde
RED: Pedro Serrazino (Dec.) Nick Garrison (Jan.,Feb.)
In December 1999, Hourglass Group presented the first New York revival of Mae West's notorious 1926 play Sex, the play that landed West in jail and made her famous. Directed by Elyse Singer, the play starred Carolyn Baeumler in the role originally created by West and featured music by Steven Bernstein's Sex Mob. Sex ran Off-Broadway to standing room only audiences at the Gershwin Hotel until February 14, 2001.
Sex is the story of an ambitious working-class prostitute who beats the system. In her search for a better life, Margy Lamont travels from Montreal brothel to Trinidad nightclub to Connecticut mansion. The broadly comic play is filled with gangsters and molls, sailors and society matrons, and the language ricochets like bullets. Sex examines the relationship between sexuality and commerce, and the myriad of forms that prostitution takes. It balances the dark realities of the 1920s underworld with high comedy, and, of course, innuendo.
..
Mae West wrote six plays that were produced on Broadway between 1926 and 1931 as well as most of the screenplays for her films. Sex was her first full-length play and it ran for nearly a year. To prevent the New York opening of West's second play, The Drag -- which features a transvestite ball -- the police arrested and subsequently charged her with staging an obscene production. She served eight days on Welfare Island for Sex. Hourglass' production of Sex is framed by excerpts from the 1927 obscenity trials as well as West's own words as an icon-in-development.
Director Elyse Singer first tracked down a copy of the unpublished script of Sex in January, 1996. The intention was to do the play as a follow-up to Love in the Void, Hourglass' critically acclaimed adaptation of Courtney Love's Internet posts co-created by Singer and Carolyn Baeumler. Sex was developed through New Georges and New York Theatre Workshop. In 1997, Singer, Baeumler, and Nina Hellman founded the Hourglass Group and began negotiating for the rights to produce the play independently.
Composer Steven Bernstein, best known as music director of John Lurie's band the Lounge Lizards, will provide 1920s early jazz music for Sex with his band Sex Mob in collaboration with Evan Hause. Designers are George Xenos (Set), Kaye Voyce (Costumes) and Tyler Micoleau (Lighting). In addition to Baeumler, the cast for Sex includes Cynthia Darlow, Nick Garrison, Dominic Hamilton-Little, Nina Hellman, Bruce Kronenberg, Andrew Elvis Miller, Chuck Montgomery, T. Ryder Smith, Fred Velde and a rotating roster of special guests.
Set Designer: George Xenos
Costume Designer: Kaye Voyce
Lighting Designer: Tyler Micoleau
Assistant Director: Ninon Rogers
Senior Counsel: Mark L. Beigelman
Associate Producer, Counsel: Ben Feldman
Press Representative: Ron Lasko/SPIN CYCLE
Copyrighted by and licensed by the Receivership Estate of Mae West represented by The Roger Richman Agency, Inc., Beverly Hills, CA
postcard graphic design by: lenkei design