ARTISTS
WRITER...David Simpatico
DIRECTOR & CONCEIVER...Elyse Singer
COMPOSER...Steven Bernstein
with music by the Millennial Territory Orchestra
BASED ON THE PLAY "THE HONEST FINDER" BY ALADAR LASZLO
AND THE SCREENPLAY WRITTEN BY SAMSON RAPHAELSON
CAST:
MARIETTE...Carolyn Baeumler
LILY...Nina Hellman
GASTON...Jeremy Shamos
FRANCOIS/IVAN...Steven Rattazzi
MAJOR/GIRON...Gordon Stanley
BOUCHER et al...Cynthia Darlow
JACQUES et al...Liam Craig
ENSEMBLE...Henry Caplan
SET DESIGN...Lauren Helpern
COSTUME DESIGN...Theresa Squire
LIGHTING DESIGN...Traci Klainer
SOUND DESIGN...Katie Down
PROP DESIGN...Faye Armon

CHOREOGRAPHER...Carey Bertini
DRAMATURGY...Erika Rundle & Aniko Szucs
MUSICAL DIRECTOR...Jill Brunelle
PRESS REPRESENTATIVE...Spin Cycle Public Relations
CASTING...Deborah Brown
WIG DESIGN...Rob Greene & John J. Janas
ASSOCIATE COSTUME DESIGNER...Renee Mariotti
ASSISTANT COSTUME DESIGNER...Sarah Cubbage
ASSOCIATE LIGHTING DESIGNER...Stacey Boggs
ASSISTANT DIRECTOR...Deborah Philips
CASTING ASSOCIATE...Aurora Pettinari
ASSISTANT DRAMATURG...Julia Goldstein
PRODUCTION MANAGEMENT...Dynamic Productions
PRODUCTION STAGE MANAGER...Elyzabeth Gorman
ASSISTANT STAGE MANAGER...Sunneva Stapleton
PRODUCTION ASSISTANTS...Melissa Pujols & Othalys "Diddy" de la Cruz

WARDROBE SUPERVISOR...Steven Cossi
DRESSER...Jenni Hanson

PRODUCTION MANAGERS...Craif SaNogueira & Brian Rosenblum

SOUND OPERATOR...Jack Daniel Stanley
LIGHT BOARD OPERATOR...Laurel Stinson
FOLLOW SPOT OPERATOR...Rebecca Fields
MASTER ELECTRICIAN...Matthew F. Lewandowiski II

BOX OFFICE MANAGER...Lindsay Naft
ASST. BOX OFFICE MANAGER...Joanna Rose
SPECIAL EVENTS COORDINATOR...Sara Copeland
LEGAL...Ben Feldman/Epstein Levinsohn Bodine Hurwitz & Weinstein LLP
ACCOUNTING...John Lieberman

GRAPHIC DESIGN...Anke Stohlmann
PHOTO...Marilyn Minter. Courtesy of the artist and Salon 94, New York.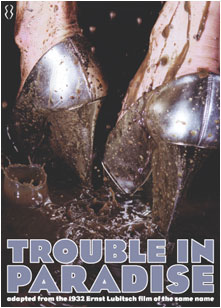 This production is made possible by generous grants from the Greenwall Foundation, the Axe-Houghton Foundation, the Independence Community Fund, the A.R.T./New York Nancy Quinn Fund, the Lower Manhattan Cultural Council's Manhattan Community Arts Fund and by individual donors.
The cast and production stage manager appear courtesty of Actors' Equity Association. AEA Approved Seasonal Showcase.