"YUMMY...This is a great-looking, giddy little production, playfully mocking and reveling in the impossible glamour of those Depression-era movies about money and mores.... As the criminal couple, Jeremy Shamos and Nina Hellman are smooth as silk. Carolyn Baeumler is elegant and sympathetic as their target, Madame Colet."
-New York Times (Anita Gates), 6/23/06 - "Trouble in Paradise: The Impossible Glamour That Was Lubitsch" - Click here to read entire review

"ENCHANTING...Directed with jaunty aplomb by Elyse Singer, the actors glide smoothly into a witty simulacrum of the movie. Jeremy Shamos, his voice a cultivated purr, excels as the suave international thief Gaston Morescu; the vulpine Nina Hellman tears amusingly into the role of his life-partner in crime, and Carolyn Baeumler has a sweetly soft presence as their easy-living, free-spirited mark...Set designer Lauren Halpern and costumer Theresa Squire—squeezing great-looking work out of a presumably tight budget—help make this stylish production pop like a bottle of domestic champagne. Trouble in Paradise is Off-Off heaven: a $20 show that plays like a million bucks. "Time Out New York (Adam Feldman) 6/29/06 Click here to read entire review

"With his wide brow and taut grin, Shamos radiates a debonair insouciance, and wide-eyed Hellman nearly outdoes him with her brassy guile...The director and designers have great fun with the piece's upper-caste costumes and art deco milieu. Hellman's gold lamé, Rattazzi's stock garters, even an unpretentious telephone table threaten to steal the show (perhaps not such a surprise in a comedy about thievery). The bouncy, blurting jazz score by Steven Bernstein also makes away with one's heart...Paradise is a fairly Edenic evening." -- Village Voice (Soloski) "To Heiress Human: Frothy swindle comedy captures that Lubitsch touch" Click here to read entire review

"The perfect entertainment for a summer evening. One can almost hear the martinis chilling all throughout this detailed production, directed beautifully by Elyse Singer... the stellar cast of Trouble in Paradise is hilarious... For those of you craving a satisfying taste of yesteryear, Trouble in Paradise is the perfect dish. It goes down easy, fills one up, and leaves one completely fulfilled. Lubitsch would be proud."
-
NYTheatre.com (
Michael Criscuolo
), 6/19/06 - "Trouble in Paradise" -
Click here to read entire review
"This theatrical adaptation would make Lubitsch proud, as the jokes and punch lines consistently hit their mark. The entire cast of Trouble in Paradise had the audience in its palm and roaring approval, as reliably as a laugh track. "
-offoffbroadway.com (Adrienne Cea), 6/16/06 - "Stolen Hearts" - Click here to read entire review

"Every once in a while a reviewer discovers a sparkling gem in a little theatre off-off Broadway... Singer gives us action, smart snappy movement, perfectly timed dialogue and a great cast. TROUBLE IN PARADISE is a swell show with great charm, sophistication, and panache, and is entertaining from start to finish. Long may it wave!"
-Lively Arts, 6/22/06 - Click here to read entire review

"The Hourglass Group's stage adaptation of the Ernst Lubitsch's 1932 film Trouble In Paradise is a joy. The physical production is gorgeous with art deco sets by Lauren Helpern and amazing costumes by Theresa Squire. Director Elyse Singer has assembled a terrific cast with extra kudos to the always-brilliant Steven Rattazzi, Jeremy Shamos and especially the OBIE-worthy Nina Hellman in the Miriam Hopkins role." Off-Off-Blogway Click here to read entire review
Click here to read Time Out New York's feature article "BELLE OF THE SCREWBALL: Multifaceted actor Nina Hellman goes high camp in Trouble in Paradise. "

Listen to Elyse Singer's interview on WCKR Radio's Arts and Answers

Monday July 10: 9:30-10:00 pm - Director, Elyse Singer, discusses the Off-Broadway play, "Trouble in Paradise" that is currently playing at the Hudson Guild Theatre, which is located at 441 W 26th Street. "Trouble in Paradise" is based on a 1932 film of the same name that tells the tale of two crooks' attempt to swindle a wealthy widow. Hosted By Madeline Lewis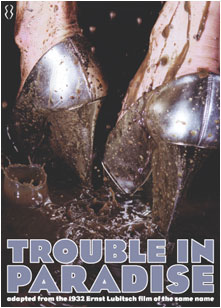 This production is made possible by generous grants from the Greenwall Foundation, the Axe-Houghton Foundation, the Independence Community Fund, the A.R.T./New York Nancy Quinn Fund, the Lower Manhattan Cultural Council's Manhattan Community Arts Fund and by individual donors.
The cast and production stage manager appear courtesty of Actors' Equity Association. AEA Approved Seasonal Showcase.